Welcome to Awesome Supplements, where our mission is BIG, but simple….
We're here to provide you with the most honest, high quality, science driven, AWESOME tasting, plant-based supplements possible, so we can support you in pursuing your health and fitness goals - whatever they may be - all whilst caring for the planet.
In other words, we want to Fuel Your AWESOME!
And that means listening to what you, our customers want.
You want products that work, backed by credible peer reviewed science.
You want products free of heavy metals, unnecessary fillers, and junk ingredients.
You want products that are jargon free, simple to understand, and easy to take.
You want products that fit into your lifestyle.
You want products that taste AWESOME.
And that's what we do, because we're just like you.
We're about big goals.
We're about optimal health.
We're about pushing ourselves to reach our full potential, to see what we're capable of.
We're about doing the right thing, in the right way, and being transparent every step of the way.
We're about all of this and more because we feel that's the right thing to do. That's what AWESOME people would do. That's why we do all of this:

100% Plant based
All our products are plant based, vegan friendly, gluten free, and dairy free

Made in Britain
Proudly creating and manufacturing everything in here in Britain. Reducing our carbon footprint

15 awards to date
Our products have won 15 awards and 82% of customers return every month. We must be doing something right!

Recyclable packaging
Our pouches are made from low weight #4 recyclable plastic, easily recycled at most supermarkets

Science driven
Everything we do is led by robust research, and all products are dosed to research optimal doses

Awesome Guarantee
Not happy with our products? Get in touch and we'll solve the problem, or refund you
We started in 2016, wanting to bring more integrity to the world of supplements, by creating products that work, and nothing that didn't, without the false claims or misleading science, all whilst delivering on taste.
We've come a long way since then.
We're always trying to be better, to do better, for our Awesome customers and the planet. Some recent changes we've made are switching our packaging to recyclable pouches over tubs reducing our virgin plastic use by 80%, removing plastic scoops from our products, and switching our protein bar wrappers to fully compostable packaging.
To read about all the changes we've made in our 7 year journey to date, view our 2021 Sustainability Report. 
We're here to support your health, to power your next big performance, to energise your everyday.
To Fuel Your Awesome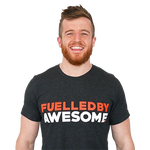 by
Ben Coomber
Ben is a multi-award-winning Nutritionist, coach and best-selling author. Ben has coached 1000s of people during his 16 years as a coach, working with everyone from pro athletes to kids playing sport and educates the nutrition coaches of the future at The BTN Academy, our sister company. This all started with his journey as an obese teenager suffering with IBS, Asthma, Ezcema and ADHD, and him wanting to better his health, body and mind and become... AWESOME. Check out Ben's best-selling book 'How to Live an Awesome life' HERE.